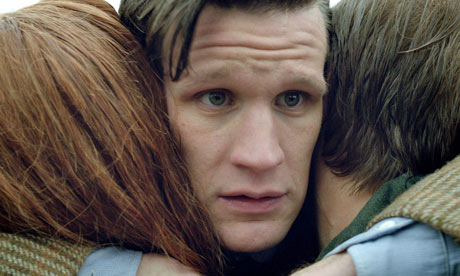 To follow our 'The Angels Take Manhattan' commentary, James brings you his review of the episode. Don't forget to let us know what you thought too. Come along Pond!

So, goodbye Ponds. Over the course of the last two and a half seasons you've been exceptional. You and Matt Smith have consistently been the best things about nearly every episode of Doctor Who for the last few years, and I will sorely miss you.
From Amelia Pond waiting in her garden, to the introduction of Amy proper, waiting for her Doctor to return for her entire life, making the choice of Rory over the Doctor, then Rory and the Doctor – at the heart of Karen Gillan's portrayal of Amy Pond has been true character growth. It's easy to feel like Amy really has grown up with the Doctor over the last few years, and she's turned into a kick-ass woman and half of one of the best relationships in sci-fi (up there with Han and Leia, Adama and Roslin or Zoe and Wash).

Rory meanwhile has gone from confused comedy side kick to stone cold badass, a change that revolved around what was arguably his only character trait in The Eleventh Hour; his love for Amy. Arthur Darvill frequently doesn't get the credit he deserves for turning Rory into a character you never wanted to lose. Saddled with death scenes for episode after episode he managed to elevate Rory from Amy's "sort of Boyfriend" to a character in his own right, one who could have as easily have travelled with the Doctor alone like Amy.
Doctor Who is often carried not by the person playing the Doctor but those playing his companions. They're the audiences way into the show, the ordinary human alongside an alien genius. Both Christoper Eccleston and David Tennant shone with Billie Piper by their side, whilst Martha was so underwritten (and, it has to be said, so poorly cast) as to nearly sink the third season despite Tennant's continuation as the Doctor. The reason so many of the specials have bombed is because the companions are either not present or are overshadowed by the non-panions, the guest stars bought in to act as the Doctor's partner for a week before dying or retiring from adventures.

On that basis, the success of Matt Smith's Doctor is not just down to his ability to play a totally convincing extraterrestrial – a space horse in human clothing – as much as it's about a pair of companions who have been the best since Piper. The decision to have not just one companions but a pair, and making that pair a couple, has allowed the show to explore some great storylines which would otherwise have been impossible. Whilst it extended beyond its ability to interest the 'time-baby' and extended Pond family wasn't something we've seen before, with the closest we've had to a companion bringing a partner along being Rose and Mickey – a relationship that didn't make it through a dozen episodes, never mind thousands of years of waiting and a kidnapped pregnancy.
This episode had been billed all along as the 'end' of the Ponds and the return of the Weeping Angels. It certainly delivered on both those things, containing a definite end to the Pond storyline and lots of stone baddies.
Other than that though, this was an awful, awful episode.
For a show about a man travelling through space and time Doctor Who really does not care about time travel at all. As long as the TARDIS gets the Doctor to a place which includes a period costume or reference, or allows the team to say we've been to a particular place in the course of the season the show is reasonably happy to ignore any exploration of the mechanics or intricacies of time travel.
In part that's probably because those issues tend to devolve into either parallel time streams (Back to the Future) or self fulfilling prophecies (Terminator). Doctor Who has never managed a better exploration of Time Travel than Bill and Ted's Excellent Adventure, where every situation is got out of by travelling back to that point afterwards to solve the problem, usually by providing the heroes with a nearby prop for convenience. If it seems surprising that show about a time traveller hasn't made it as far as a 20 year old comedy starring Keanu Reeves, it's worth reminding yourself that Doctor Who isn't actually about time travel, any more than it is about space. These are the settings, but they're less important to the show than a stately home is to Downton Abbey.
As a result, whenever Doctor Who does bother with an actual Time Travel escapade it's usually either stupid, or stupid-masquerading-as-smart through unnecessary overcomplication.

The Angels Takes Manhattan gets round the problem of how to make a bad guy who sends you back in time interesting when up against a time traveller by making up rules about what can and can't be done with time travel.
So, new rules of time. If you've read it, it has to happen. There's no way to prevent it. Case in point, having read that he would have to break River or an Angel's arm, and would choose River's, the Doctor gets to that situation and agrees that he has to, but asks River to try and find a way to change what happens.
Here's an idea Doctor – why don't you change what happens by smashing the Angel's arm off? Congratulations, you just changed time. It wasn't hard. It was pretty easy. Now Amy doesn't have to leave. You're a hero.
By effectively removing the ability of the Doctor to change any events in the timeline Moffat has moved us away from a Doctor who doesn't, or can't, interfere in fixed-points towards one who just may as well not bother at all. Just give up. It'll all happen anyway. No fate but what you read has replaced 'spoilers' as the reason why we shouldn't just find out what happens next, something that never prevented the Doctor from meddling in historical events he was aware of an outcome of before now.
Of course, the problem with this is that it doesn't hang together at all. Either you can change history or you can't – but it's not an either/or situation. Once we reach the end the Doctor abandons Rory because they saw him die and saw his gravestone. They can't go pick Rory up because it's literally written in stone, but Amy sacrificing herself and thus CHANGING HISTORY is heralded as a triumph for her relationship with Rory.
Lets walk through this. Timeline 1 Rory is from the present day, Timeline 2 Rory is dying in bed in 1938.
T1 Rory sees T2 Rory die in a building which he is presumably unable to escape from. He dies alone, desperately happy to see Amy because she's not been there for years.
T1 Rory and Amy leap to their death, thus causing a paradox (as T2 Rory now can't die in bed as previously seen). This kills the weeping angels and frees T1 Rory from his (almost impossible to change) fate. He will no longer become T2 Rory.
The last weeping angel sends T1 Rory back at the last minute, he will now die in bed as T2 Rory again. The paradox erased T2 Rory, deposited T1 Rory back in the present, but was then undone and created T3 Rory. In this timeline the Angels have been erased by the paradox (that still happened and isn't averted by Rory returning to 1938) but Rory still dies in bed alone. It is T3 Rory who is buried in the grave.
Amy sacrifices herself to go back in time. She will now live with Rory. The dying Rory they discovered is no longer accurate, he was in T2. Amy should still be alive at that point in T3. The change to the gravestone demonstrates that time has been altered to include her presence in Rory's life at this time.*
It might seem like I'm making too big a deal of this. It's a show about a time travelling alien fighting haunted statues and there needs to be some suspension of disbelief. The problem is that this is the WHOLE POINT of the episode. If time can't be changed, if it's static, then Amy CAN'T be sent back to be with Rory if she wasn't there already. If Amy can go back (which she does) then the Doctor has just abandoned his two best friends, the parents of his wife, because he wouldn't travel back 50 years and take them back home.
This isn't a minor point. The entire plot hinges upon the idea of the timeline having solidified, and breaking it to tack on a semi-pleasant ending unravel the whole narrative. It's sloppy writing, and it's not just visible in the time travel explanations.

In order to make the plot work Moffat has to fundamentally alter the way the Angels work. Time of Angels twisted the danger by making prolonged eye contact with the Angels dangerous, an ingenious and scary ability that worked within the story. But Manhattan's twist is a step too far by tweaking the way that the Angels ability works altogether – they can now teleport you anywhere in space as well as time, can appear as any statue (not just Angels) and come in a range of sizes.
When I said the CGI for the Dinosaurs was bad I was wrong. The special effects here set new levels of can't-be-arsed, whilst also suggesting that the population of Manhattan are so out of touch that they don't notice that the statue of liberty has got off her plinth and gone walk about, using foot step sound effects borrowed from Ghostbusters II. How did she make her way across the city, and why? She doesn't touch anyone and send them back in time, it's simply there because that's a statue in New York everyone knows. Is it the same species as the other Angels? Why is it so big? They're biological in nature. The cherubs are referred to as Young Angels, a lovely touch, do how did they end up with one who's 100 times the size of any other Angel? Do they replace statues, or convert people to become statues? None of these questions are answered, but all come up in the episode, without any attempt at answers. Like Lost, the programme introduces things that look cool without feeling the need to have them make sense.
"Like Lost, the programme introduces things that look cool without feeling the need to have them make sense."
That's incredibly lazy writing. It's Alan Moore's 'sloppily defined magical principle' writ large. Even little things like how the cherubs can blow out the candles if they're frozen solid become bothersome once the internal logic is lost.
There's much here that could be incredibly interesting. River and Rory leaving clues from the past – something the Doctor did in Blink, the Angels creating a farm for time energy, even the collector of curiosities keeping an Angel in chains (imagine Asylum of the Daleks with Weeping Angels). Any of these could have been expanded, but instead Moffat tries to create forced pathos and a 'trick' ending so hollow and foreshadowed that it was possible to call it from ten minutes in. The fact is that this episode did nothing interesting with the idea of Amy and Rory leaving because they're stranded in time, because it doesn't care to think through what that would actually mean.
"Moffat tries to create forced pathos and a 'trick' ending so hollow and foreshadowed that it was possible to call it from ten minutes in"
Instead, it leaves us knowing that the Doctor will go find a new friend, whilst River will go and write a book for the Doctor and avoid travelling with him because he's also a psychopath.
This somehow managed to make my theory of what was happening seem less awful than it would have been. In my head, when Amy and Rory jumped off the roof, Amy died instantly but Rory survived with a broken back. Immediately caught and touched by an Angel he is sent back in time whilst he lies broken on the ground. Unaware that his wife is dead he is left alone and paralysed, trapped in bed in a room he can't leave, waiting for Amy and the Doctor to come for him, at which point he dies, dooming himself again and again.
The thing is, judging by the early reviews and Twitter response everyone else seemed to love this episode and feel it was a great way for the Ponds to bow out, somehow fundamentally misunderstanding the true horror of the fact that The Doctor just abandoned them to a half-life of misery and loss. I imagine this is why we don't get time travel stories very often.
*Rory is marked as 82 on his grave, Amy as 87. As they went to secondary school together the absolute limit of their age difference is 5 and it seems reasonable to expect that it would be lower as they're friends throughout. Having turned up 12 years too late for Amelia Pond the Doctor meets Amy in The Eleventh Hour when she is in her teens or early twenties – based on the fact that Rory is a qualified nurse at this point he's either slightly older than her or the same age. It's therefore unlikely that Amy died before Rory. I can't begin to describe how much I hate that I worked this out.